"An enchanting work of art – intimate & extraordinarily peaceful" Fourteen acres of beautifully designed landscape, with over 40 garden 'rooms'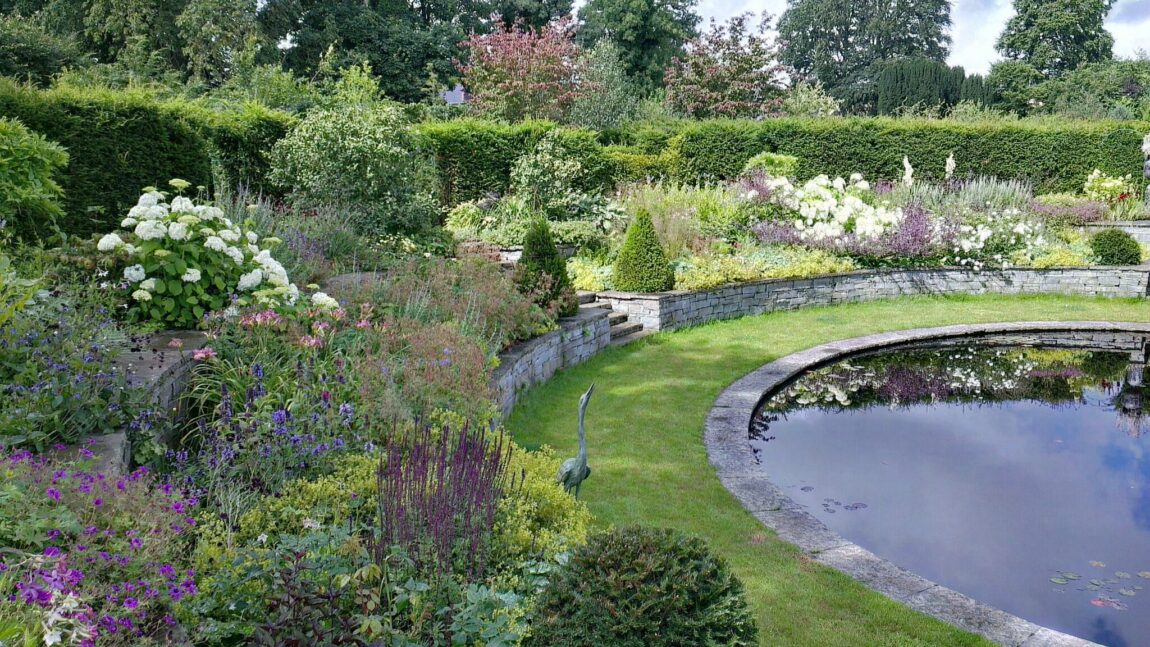 The Gardens are open to the public on our dedicated Open Days. The final open day of the season is September 26th. The gardens open from 12 noon to 5pm. Tickets are €10 euro per adult and children under 12 are free. Allow 2 hours and please feel welcome all day. Tea rooms will be open serving tea and coffeee and sweet treats. Private group tours of 10 can be arranged outside of these times. Please call our Head Gardener Jenifer on +353 87 2857919 to arrange.
The historic gardens at Ballintubbert have been expanded with an Arts & Crafts influence to include an impressive variety of garden rooms & pedimented yew cloisters.
Of particular note is the Sir Edwin Lutyens design water garden complimented by Gertrude Jekyll style planting schemes.
There are wild flower meadows & woodlands influenced by William Robinson's approach to 'wild gardening' in contrast to the formal lime walks that flank a hundred meter canal in the more classical gardening tradition.
This is Ballintubbert, Baile an Tobair – town of the wells & the gardens are blessed with mineral rich water from its aquifers.
Spring is a blaze of anemones & many varieties of Narcissus & Galanthus, Sweet Woodruff, Aconite & Leucojum.
May is the time for our resplendent Peonies, of particular note are the Ludlowii – the yellow Peony trees & Paeonia Lutea. The Shackleton Garden's myriad of colours include Echinops, Kiengeshoma palmate & Cephalaria gigantea.
Feast your senses on our prized Rose Garden & explore the renewed Potagers of heirloom & heritage vegetables, abundance of fruits & a cutting garden. Enjoy the Dahlias in late summer, along with an abundance of Cannas, Baptisia australis & Strobolanthus wallichii.
Take a woodland walk to enjoy an array of specimen trees including the rare Gingko biloba & Metasquoia glyptostroboides – the dawn redwood.
Amongst our specimen trees you can find various Japanese Acers, Castanea saliva 'variegata' – Spanish variegated horse chestnut, Cupressus macrocarpa, – monthly cypress & Robina pseudoacacia – the false acacia.
Autumn sees the fruits of our labour with ever-abundant crops of soft fruits, fig, plum, cherry, blackcurrant, blackberry, Fall Gold raspberry, kiwis, walnuts & cobnuts as well as traditional orchard fruits including pears, Jonagold, Katy and Bramley apples.

Do you have a promo code?