Sustainable Venue for Exclusive Hire
Ballintubbert House & Gardens embraces sustainability now and going into the future.
Sustainability is at the heart of everything we do in Ballintubbert. We are passionate about the environment and every decision we make in the estate is based on our earth friendly ethos. We are based in 14 acres of organically certified gardens, where all weeds are hand pulled, where blackbirds are our slug control and where bees holiday in our purpose built beetopia area.
Whether it's something as small as using ethical toiletries in the bathrooms, or something as large as our bio gas heating system, or our 100% green electricity supply we are on a mission to lighten our carbon footprint collectively so we can make a big difference. Our water comes from our own well and given to guests in glass bottles to remove the need for plastic bottles. Guests are free to avail of the abundance of clean chemical free drinking waters.
Our chefs are passionate about using the best local produce, and work in a way that is as low impact as possible. We know our producers, and know that food tastes best when it's local, seasonal and organic where possible. Luckily, the produce we have in Ireland is some of the best in the world.
To manage our waste we are committed to recycling. We upcycle as much as possible. We use led lighting across the estate. Our cosy fires and fire pits are fuelled by wood grown in the estate or sourced locally. Rain water is collected for garden water management. We have moved to chemical free cleaning products.
We try to do our bit for the planet quietly and efficiently, it is ingrained in the history and ethos of Ballintubbert. Most importantly, we know that being as sustainable as we can be shouldn't impact on comfort, style and warmth. We offer our guests a luxurious exclusive stay whilst helping the environment and ensuring the future of this wonderful escape in nature.
We are certified members of Irish Organic Trust which is the only Irish developed environmental certification standard.
The following sustainable actions have been taken by us and continue to be taken to minimize our footprint on the environment:
Since September 2019 we have purchased all our electricity from Pinergy. This is Irelands premier green energy provider.
In September 2021 we switched from LPG to naturally produced Bio-LPG as our primary fuel source.
All food waste and waste office paper are collected for composting.
All garden waste is composted and then reused in the garden.
Cardboard packaging, newspapers, magazines, glass, cans, plastic bottles and used light bulbs and batteries are all returned to our suppliers or collected for recycling. We are committed to further reducing waste to landfill.
All rooms are thermostatically controlled to allow for efficient heating responses.
All heating, hot water, refrigeration and electrical equipment are serviced and maintained.
We have an energy usage monitoring system. 
We use timber trimmed from our own trees for firewood.
We bottle our own water from our own well for use throughout the estate. All glass bottles are reused. The same well supplies all water systems in the estate.
Luckily for us Sebastian Shaw and his wife established the herb garden in the 1930's, this garden was restored in March 2021.
As much as possible our food is sourced from local producers thereby reducing food miles (the distance that food must travel to get from farm to fork). Laois Taste a local initiative of food producers have showcased their products in Ballintubbert and subsequently their artisan products are used. Our kitchen team also forage and use the herb garden.
We produce our own organic apple juice for guest consumption.
Welcome packs for customers include local soda bread, local organic milk, local homemade granola and our own organic apple juice.
Over the years our holistic approach to the garden has created a new habitat for birds and other wildlife.
We do not use weed killers or other harmful chemicals in our gardens.
We provide high quality, chemical free Irish refillable natural bath products throughout the estate, provided by the Irish Handmade Soap company.
We are currently transitioning to chemical free cleaning products, all washing liquid, hand soap, shower gel, general cleaning products are all chemical free at present.
Our windows are cleaned using only filtered water, no chemicals are used.
We always send e-invoices were possible to reduce the amount of paper that we use and also re-use paper in our office.
We support environmentally sustainable tourism by encouraging guests to walk or engage in nature-based activities in the immediate area. We have maps, local guide books and nature books available in the library.
We have a number of relationships with local eco-tourism providers to allow us guests explore locally in the wonderful nature that surrounds.
We use web-based marketing activities as much as possible and have a strict policy of not using mailshots. We keep in contact with regular customers through the use of e-zines. Recycled paper and card are used in the printing of brochures, leaflets and maps.
We have adopted a "reduce, reuse repair" mantra whilst maintaining the luxury cosy home from home atmosphere.
We have an Environmental Action Plan, which includes actions and targets for improvement that are reviewed annually.
Become business members of Leave No Trace and Birdwatch Ireland.
To further reduce our energy usage.
To further reduce our waste generation particularly food waste.
To completely eliminate single use plastic products.
To expand our herb garden.
Our plan over the next 5 years is to use the numerous fruit grown in Ballintubbert for guest consumption, we have apples, quinces, walnuts, figs, raspberries and edible flowers
Encourage all guests to employ sustainability practices in their celebrations e.g. No confetti on site for weddings.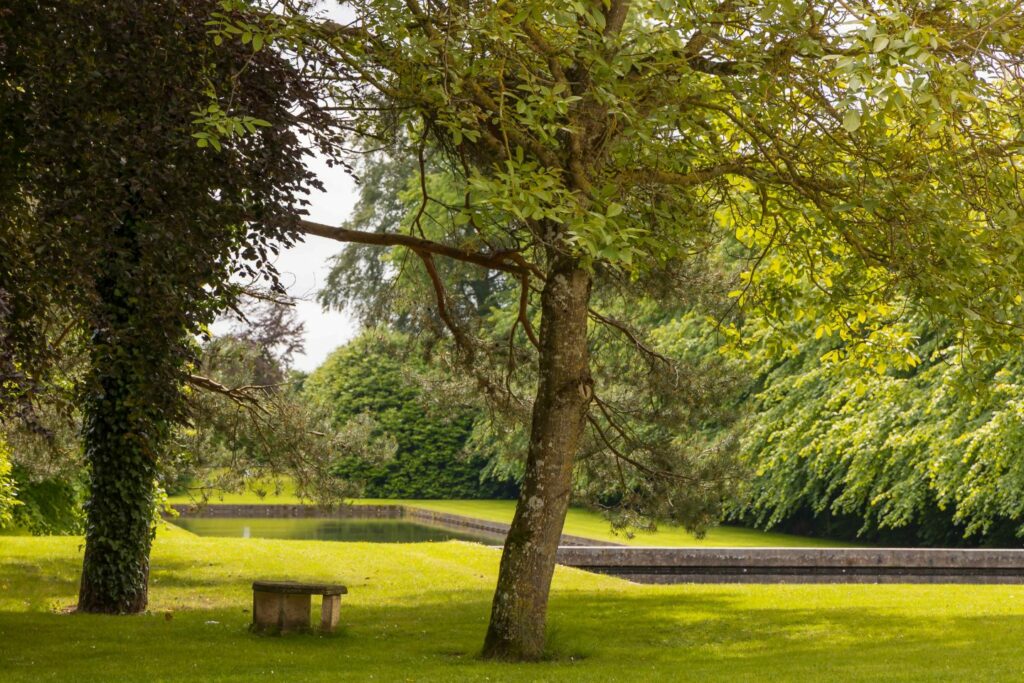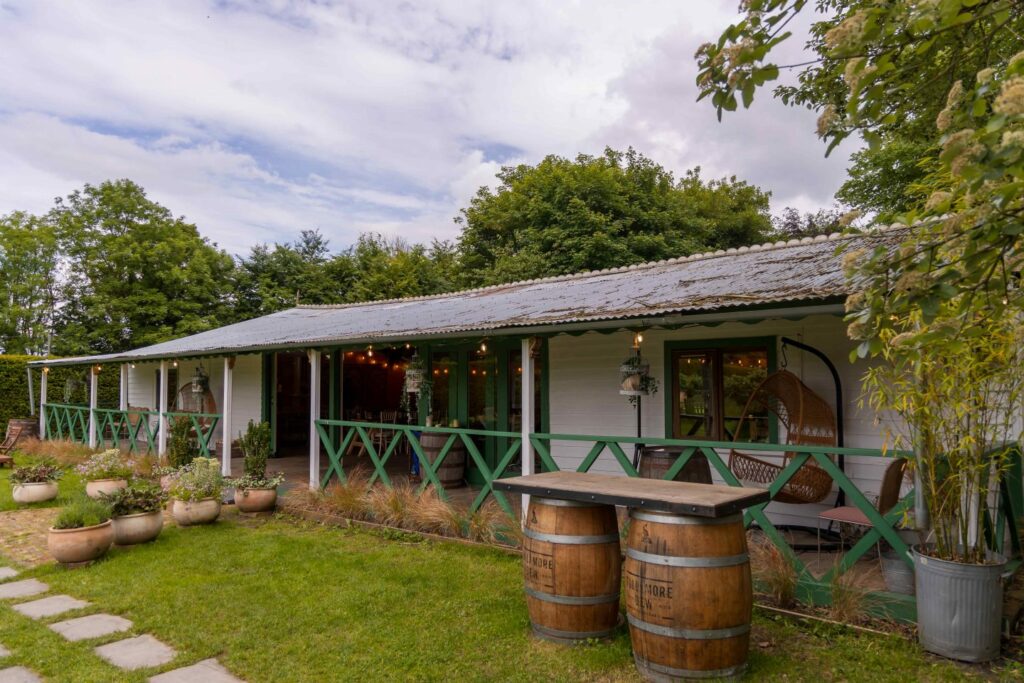 We ask our guests to play their part:
Place glass and plastic bottles, used batteries, newspapers and magazines in the bedroom dustbin. These will be collected by Housekeeping for recycling. Please use the bathroom dustbin for other waste.
Place raw kitchen waste into the bin provided.
Please close the windows if the heat is on in your room. To regulate heating turn the thermostats down.
Please try not to run water unnecessarily and inform a member of staff if you notice any leaks.
Please turn off all lights and electrical equipment when not in use.
Use the shutters in the rooms to prevent heat loss.